Dr. Martin Luther King gave his "I Have a Dream" speech on my second birthday; August 28, 1963.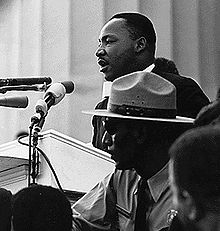 It's interesting to read or listen to the speech. Click
here
.
Here is part of his speech:
"I have a dream that one day this nation will rise up and live out the true meaning of its creed: "We hold these truths to be self-evident: that all men are created equal."
I dream that gays and lesbians will not be second class citizens in this country. I read
Alan's blog
about gay marriage being legal now in Canada for ten years now. I really do hope that the United States will catch up and start respecting us.